Our Mission
TheCUPS mission is to create Community Unity by combinding art, people, stories and the time to connect. Creating a deeper, more solid foundation for the village… our children, our parents and the future! (this wording is a work in progress)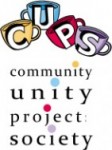 Our Story
Mosaic The City has been CUPS's lead program since 2003 – creating community unity through mosaic arts, team work and public installations.
Studio Twelve Nineteen opened 2009 Art shows, installations and experiments – highlights – "Operation 1219" – to accomplish 1219 things towards our BIG DREAM of the
 UniTea–  opened un-offically in 2012. This is to become a place to stop along our mapped out and toured art lined pathway through the CRD.  You are invited to come by for a cup of tea, a walk in the gardens or perhaps to stay awhile ..  the house on the hillside.. the art house. UniTea
From Intiative to Dream 2003- 2013 
The new face and name  of the Mosaic The CIty Initiative .. is TheCUPS
…. The Community Unity Project Society – now Mosaic the City is our main programme, but now are able to work with new artists, projects and programmes focused on community engagement and art!
 The ideas that started Mosaic The City were as an initiative, and in 2019, we are wrapping the corner to the end of our mission (eta for completion 2023) .
We began doing social networking in 2011 through a Facebook page and since that time have expanded to multiple facebook pages to highlight all our various projects.